Sky Tunnel XL2
The ideal skylite for offices and residential applications


Description
Specifications
Warranty
Resellers
Downloads
The Sky Tunnel is the ideal, energy saving solution to bring light into light commercial buildings or large residential homes. The Sky Tunnel has a 2m flexi tube that makes it easily installed into almost any ceiling space.
Flexi-tube
Flexi-tube™ is a tubing system that can be used in certain applications up to 3M in length. With 86% reflectivity, Flexi-tube™ is a cost effective alternative to Rigid98 Tube providing adequate light when applied in suitable applications.
Installation
Installation of a Sky Tunnel™ with Flexi-tube™ is very easy as the flexibility allows the installation of the roof parts and ceiling parts to be off centre, so avoiding obstructions in the attic space is simple.
Suitable for most types of roofing
The Sky Tunnel can be installed onto almost any type of roof, including tile (pictured right) or profiled steel (pictured above). The Sky Tunnel comes with everything you need for an easy installation.
Acrylic dome
The Sky Tunnel has an acrylic dome. The acrylic is impact modified and UV stabilised with a visible light transmittance of 93%.
Available sizes
343mm diameter
457mm diameter
535mm diameter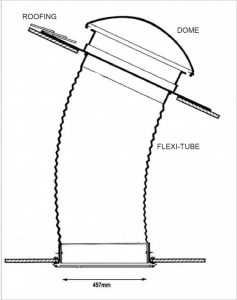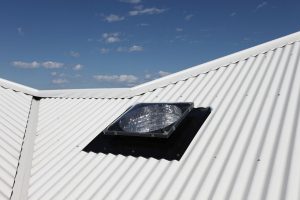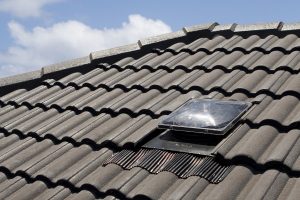 Components
Acrylic Dome – UV stabilised grade 1 acrylic
Screws – x8 to fasten dome
Vent/Solid Tabs – ASA Polymer
Breather frame – ASA Polymer
Seal – construction grade polyurethane
Soaker tray – 0.55mm corrosion resistant steel
Locking ring – White ABS Thermoplastic
Ceiling frame – White ABS Thermoplastic
Diffusers – x2 3mm Textured Acrylic
Diffuser holder – White ABS Thermoplastic
Screws – to fasten flexi-tube locking ring to ceiling
Screws – to fasten ceiling frame – lock lug/cover cap included
Magnet
Foam seal – 3mm x 6mm foam
Reflective ring – 0.45mm 430BA Stainless Steel
Tape – PVC Duct Tape
Flexi-tube – 3M
GENERAL WARRANTY
SKY TUNNEL TUBULAR SKYLIGHT
General Warranty: Alsynite NZ Ltd. generally warrants that the Sky Tunnel components are free from defects in materials and workmanship for periods outlined in the document named "Warranty Schedule".
Recourse: Should a product be found to be defective then the only recourse offered by this warranty is the replacement of that defective component under specific conditions outlined in the "Warranty Claim Procedures" document.
Other Documents: The following documents define specific terms and conditions that are an integral part of the General Warranty statement and must be read in conjunction with it. The "Warranty Claims Procedure"; "Product Maintenance Guide"; and "Warranty Claim Form". Copies provided on request.
Product Maintenance: The procedures for the correct maintenance of an Alsynite NZ Ltd. manufactured product are outlined in our separate document entitled "Product Maintenance Guide".
Installation Warranty: Alsynite NZ Ltd. offers no general installation warranty. Installation warranties are provided by the installation contractor named on the "Warranty Claims Form" supplied at the time of the installation and are for a minimum of 12 months from date of installation.
Warranty Conditions: This warranty is conditional upon: a) formal notification received within 24 hours of discovery of the defect, b) proof of purchase in the form of the original invoice/receipt or certified copy, c) a fully completed "Warranty Claim Form" having been received, d) the Product having been properly handled, installed and operated, e) the Product having been assembled as per manufacturers recommendations for local conditions, f) the product not being modified in any way.
General Exclusions: This warranty excludes a) malicious interference, b) storm, tempest, flood, fire, earthquake and other Acts of God, c) war, invasion, acts of hostility, rebellion or other similar activities, d) unauthorised modifications to the product, e) failure of ancillary equipment not part of the Alsynite product, f) collateral damage to any other property, g) any components replaced under an approved warranty claim will not extend the original warranty period of the product.
Repairs: In the case of extreme conditions, such as weather, preventing replacement of defective components to take place then the customer is at liberty to authorise temporary repair work to be undertaken. Any costs incurred for these repairs shall be borne by the customer or by the customer's nominated insurance company.
Activation: Formal notification then a proof of purchase invoice/receipt plus a completed an Alsynite NZ Ltd. "Warranty Claim Form" returned to Alsynite NZ Ltd. are the primary conditions required to activate the warranty claim process. Alsynite NZ Ltd. PO Box 10409 Te Rapa, Hamilton. Address: 7 De Leeuw Place, Te Rapa, Hamilton. P: 0800 257 964 E: admin.compliance@alsynite.co.nz
Apart from these express warranties, Alsynite NZ Ltd. or the product manufacturer will not be bound by or subject to any term, condition, warranty, obligation or liability (including any liability for indirect or consequential loss or whatsoever to the person, property or business of the Purchaser or any third party) in respect of Alsynite, or for any defect in, or failure of the product, whether the same may be due to any act, omission, negligence or wilful default of Alsynite. or its servants or agents or workmanship, materials or infringement of rights or to any other cause whatsoever, and all other conditions or warranties whether express or implied, statutory or otherwise, inconsistent with these conditions, are hereby expressly excluded. Any failure by Alsynite to enforce any term or condition hereof will not be deemed to be a waiver of future enforcement of that term or any other term or condition.
The General Warranty information is qualified by the following specific conditions and exclusions.
The Sky Tunnel components manufactured and then fully assembled by the manufacturer prior to supply to Alsynite NZ Ltd.  are warranted as per the General Warranty conditions.
Resellers who purchase sufficient components to assemble and package a "genuine" Sky Tunnel will be warranted as Specialised Components. The expectation is that these distributors, resellers or installation companies through the addition of their labour to assemble and package the components into an Assembled Product will then warranty the Product for the same period as Alsynite NZ Ltd. Components supplied to a customer for the purpose of fulfilling our warranty obligations will not extend the original warranty period of the product. Alsynite NZ Ltd. will not extend the warranty terms and conditions offered by that Original Equipment Manufacturer or reseller.
Note: This document to be read in conjunction with the General Warranty Statement, Warranty Card, Warranty Claim Form and Product Maintenance Guide.
WARRANTY CLAIMS PROCEDURE
The Customer has to be asked to prove that the purchase date of the product is within the warranty period. The proof of purchase must be sighted and verified by Alsynite NZ Ltd.
Authorised Resellers/Distributors of the Sky Tunnel can fax or email the proof of purchase and the completed Warranty Claim Form to Alsynite NZ Ltd. PO Box 10409, Te Rapa, Hamilton.
a. If the product is not within the warranty period or the date cannot be verified the customer is to be made aware of what charges will apply for any replacement parts.
b. For Products within the warranty period the Customer can either:
1) Return the faulty goods to the Alsynite NZ Ltd. or an appointed Distributor/Reseller as advised by Alsynite NZ Ltd. at their expense for inspection or,
2) Agree to pay a fee and to the terms as per Alsynite NZ Ltd. if they wish to have someone visit their site to determine whether the fault is that of the product or the installation. The customer will be required to pay the fee even if there is a product fault. Alsynite NZ Ltd. is to make the Customer aware that receiving replacement parts under warranty does not extend the original warranty period.
Resellers/Distributors are not authorised to accept Liability on behalf of Alsynite NZ Ltd. for any collateral damage allegedly caused by faulty product or workmanship.