Green-Vent Solar
The Eco-Friendly vent that only runs when required


Description
Specifications
Warranty
Resellers
Downloads
Green-Vent Solar has been specifically designed for New Zealand's climate.
The Green-Vent Solar is a solar powered vent that is controlled using a humidistat and a thermostat to ensure it runs only when required. The vent does not require wind to operate, has a fully adjustable solar panel, is extremely quiet and will keep your home cooler in summer and drier in winter.
During summer the temperatures inside New Zealand homes can exceed 50°C in roof spaces, resulting in elevated temperatures as high as 30°C in living areas.
During winter the roof space temperatures can drop to 15°C with the internal temperature dropping even lower. This is when condensation and moisture start to form.
Controlled by a humidistat and a thermostat, the Green-Vent Solar will automatically switch on when temperature in the ceiling space reaches 27°C and switch off when it reaches 25°C. It will also switch on if the roof space reaches 75% relative humidity and switch off when the roof space reaches 65.
Environmental control system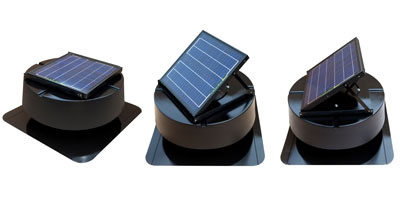 The Environment Control System (ECS) is an automated system for running the fan when environmental conditions demand it. The system is powered by a 12V solar panel so if there is no sun, the unit will not operate.
However, you can plug the ECS into mains power (see below for information) using the transformer (included). The fan will run on solar power when it has sunlight, otherwise it will run on mains power and only run for eight minutes every half hour.
Electrical requirements for mains power operation (optional)
To set up night time moisture control you will need the services of a qualified electrician to install a 12V transformer (to be sourced in NZ). You can plug the ECS into mains power (separate transformer required) which will then allow the ECS unit to control the Green-Vent Solar when there is not enough sunlight on the solar panel, such as at night.
Important information
Transformer input is based on local power source.
Transformer output to be 12V DC – 1.5Amp.
Plug for transformer should be 5.5mm
Temperature control is always ON.
Humidity control is always ON.
The unit will automatically switch ON at 27°C and switch OFF at 25°C.
The unit will automatically switch ON at 75% relative humidity & switch OFF at 65% relative humidity.
The system runs on the power of the solar panel so if there is no Sun, such as night time, the unit will not run regardless of temperature or humidity.
The optimum direction for the solar panel to face is north.
The energy usage is almost negligible at approximately 0.03k/w.
| | | | |
| --- | --- | --- | --- |
| Floor area of roof/attic space | Low angle/pitch up to 18° | Medium angle/ pitch up to 33° | High angle/pitch up to 45° |
| 100m2 | 1 Fan | 1 Fan | 2 Fans |
| 150m2 | 1 Fan | 1 Fan | 2 Fans |
| 200m2 | 1 Fan | 2 Fans | 3 Fans |
| 250m2 | 2 Fans | 2 Fans | 3 Fans |
| 300m2 | 2 Fans | 3 Fans | 4 Fans |
Features
Solar panel tilts & rotates
Operates without wind
Only operates when required
Humidistat included
Thermostat included
Malleable aluminium flashing 700x700x0.7mm
300mm Throat
Suitable for most roof types
designed for the New Zealand climate
High efficiency 38V DC Motor
Optional mains power connection
Stylish black casing
Pre-assembled, ready to install
7 Year Warranty*
Components
Solar panel: 35 Series DC 12V System
15 Watt Poly-crystalline silicon solar panels.
Top cover: UV stabilised thermoplastic-
haircell texture (black).
Brackets: 1.5mm (16 guage) brackets and supports.
Fan: High performance, lightweight fan blade.
Motor: High efficiency 38V DC motor
Flashing: 0.55mm pressed steel flashing designed to fit almost any roof type.
Flashing Dimensions: 700 x 700 x 0.7mm
Thermostat: Allows the fan to operate if the temperature exceeds 27°C.
Humidistat: Allows the fan to operate if the humidity reaches 75% and turns of when the humidity drops below 75%.
GENERAL WARRANTY
GREEN-VENT SOLAR
GVS-W-032013
This Warranty is for a period of 7 Years from the date of purchase.
Terms and Conditions apply.
General Warranty: Alsynite One NZ Ltd. generally warrants that the Green-Vent Solar components are free from defects in materials and workmanship for periods outlined in the document named "Warranty Schedule".
Recourse: Should a product be found to be defective then the only recourse offered by this warranty is the replacement of that defective component under specific conditions outlined in the "Warranty Claim Procedures" document.
Other Documents: The following documents define specific terms and conditions that are an integral part of the General Warranty statement and must be read in conjunction with it. The "Warranty claims Procedure"; "Product Maintenance Guide"; and "Warranty Claim Form". Copies provided on request.
Product Maintenance: The procedures for the correct maintenance of an Alsynite NZ Ltd. manufactured product are outlined in our separate document entitled "Product Maintenance Guide".
Installation Warranty: Alsynite NZ Ltd. offers no general installation warranty. Installation warranties are provided by the installation contractor named on the "Warranty Claims Form" supplied at the time of the installation and are for a minimum of 12 months from date of installation.
Warranty Conditions: This warranty is conditional upon: a) formal notification received within 24 hours of discovery of the defect, b) proof of purchase in the form of the original invoice/receipt or certified copy, c) a fully completed "Warranty Claim Form" having been received, d) the Product having been properly handled, installed and operated, e) the Product having been assembled as per manufacturers recommendations for local conditions, f) the product not being modified in any way.
General Exclusions: This warranty excludes a) malicious interference, b) storm, tempest, flood, fire, earthquake and other Acts of God, c) war, invasion, acts of hostility, rebellion or other similar activities, d) unauthorised modifications to the product, e) failure of ancillary equipment not part of the Alsynite product, f) collateral damage to any other property, g) any components replaced under an approved warranty claim will not extend the original warranty period of the product.
Repairs: In the case of extreme conditions, such as weather, preventing replacement of defective components to take place then the customer is at liberty to authorise temporary repair work to be undertaken. Any costs incurred for these repairs shall be borne by the customer or by the customer's nominated insurance company.
Activation: Formal notification then a proof of purchase invoice/receipt plus a completed an Alsynite NZ Ltd. "Warranty Claim Form" returned to Alsynite NZ Ltd. are the primary conditions required to activate the warranty claim process. Alsynite NZ Ltd. PO Box 10409 Te Rapa, Hamilton. Address: 7 De Leeuw Place, Te Rapa, Hamilton. P: 0800 257 964 E: admin.compliance@alsynite.co.nz
Apart from these express warranties, Alsynite NZ Ltd. or the product manufacturer will not be bound by or subject to any term, condition, warranty, obligation or liability (including any liability for indirect or consequential loss or whatsoever to the person, property or business of the Purchaser or any third party) in respect of Alsynite, or for any defect in, or failure of the product, whether the same may be due to any act, omission, negligence or willful default of Alsynite. or its servants or agents or workmanship, materials or infringement of rights or to any other cause whatsoever, and all other conditions or warranties whether express or implied, statutory or otherwise, inconsistent with these conditions are hereby expressly excluded. Any failure by Alsynite to enforce any term or condition hereof will not be deemed to be a waiver of future enforcement of that term or any other term or condition.
The General Warranty information is qualified by the following specific conditions and exclusions.
The Green-Vent Solar components manufactured and then fully assembled by the manufacturer prior to supply to Alsynite NZ Ltd. are warranted as per the General Warranty conditions.
Resellers who purchase sufficient components to assemble and package a "genuine" Green-Vent Solar will be warranted as Specialised Components. The expectation is that these distributors, resellers or installation companies through the addition of their labour to assemble and package the components into an Assembled Product will then warranty the Product for the same period as Alsynite NZ Ltd. Components supplied to a customer for the purpose of fulfilling our warranty obligations will not extend the original warranty period of the product.
Alsynite NZ Ltd. will not extend the warranty terms and conditions offered by that Original Equipment Manufacturer or reseller.
Note: This document to be read in conjunction with the General Warranty Statement, Warranty Card, Warranty Claim Form and Product Maintenance Guide.