Lumino Tubular Skylight
Bring natural light into your home or office with a Lumino Tubular Skylight


Description
Specifications
Warranty
Resellers
Downloads
The Lumino Tubular Skylight has a 300mm diameter acrylic dome and comes with everything you need for installation. It is suitable for installing onto almost any type of roof, including tile and steel at a pitch of 45 degrees or less.
Diagram of an installed Lumino Tubular Skylight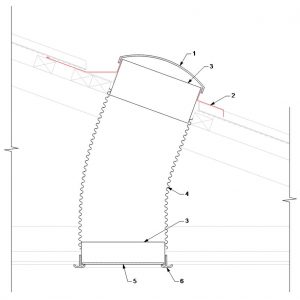 1. Durable and UV stable Acrylic Dome.
2. 600mm x 550mm x 0.7mm soft aluminium roof flashing.
3. 0.5mm a reflective stainless steel collars.
4. 300mm diameter reflective flexible spiral tubing.
5. 3mm thick clear acrylic prismatic light diffuser.
6. White ceiling frame.
Lumino exclusive distributor
East Coast Suspended Ceilings Call Free 0800 286 2879 (7am – 10pm, 7days)